Moor laser speckle contrast imager
The moorFLPI-2 blood flow imager uses the laser speckle contrast technique to deliver real-time, high-resolution blood flow images, providing outstanding performance in a wide range of pre-clinical and clinical research applications.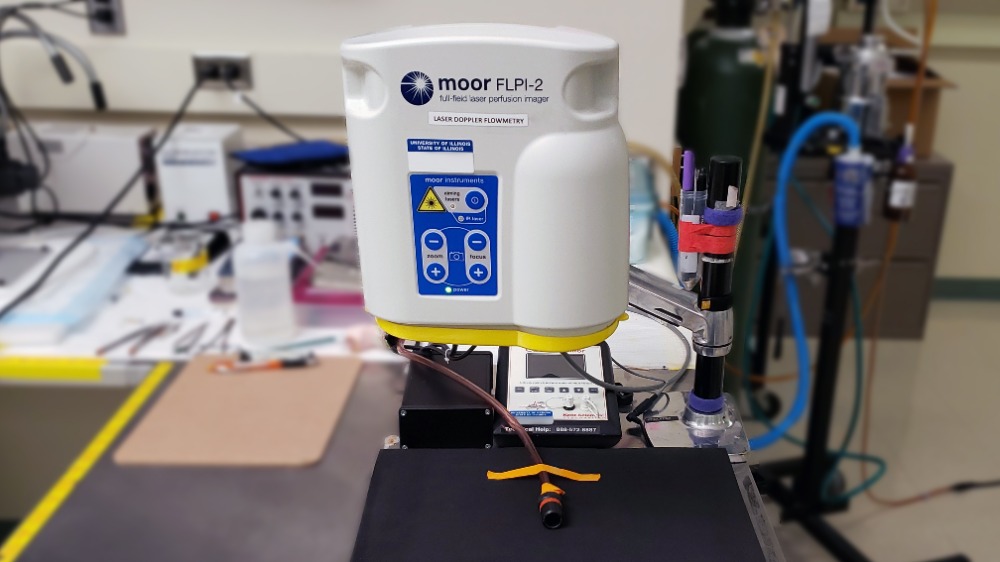 About the blood flow imager
The imager's features include:
Optical zoom, which means you can assess small areas right up to a full-size adult hand with a single imager.
Ability to image any exposed tissue (skin or surgically exposed tissues) and species.
Easy-to-use, single USB connection with flexible and simple setup helps get you up and running quickly.
Three measurement modes with flexible sampling rates (spatial, temporal, and sliding window algorithms) to optimize your data for frame rate, spatial resolution, and file size.
The best spatial resolution of 3.9 microns per pixel (6.6Mpixels/cm2).
Real-time video frames rates – up to 100 frames per second at the full field (no windowing).
Image areas range from 6mm x 8mm to 225mm x 300mm with a unique, motorized 10x optical zoom and autofocus.
Color photo and blood flow images are provided by a unique single USB3 camera, RGB illumination system. Blood flow and photo images precisely matched.
Compact design with flexible stand options for laboratory or clinical use.
Unique protocol control – automation of pressure cuff, tissue heating, and iontophoresis protocols with automated reporting, eases workflow, and improves accuracy.
CE marking that's well-established in the clinical and research communities for best performance and quality. Laser stability hardware for the ultimate in reliable and consistent measurement over minutes, hours, and days.

Molecular Imaging Lab contact
Iwona Dobrucka, Ph.D.
Job title Senior Research Scientist (Molecular Imaging Laboratory)
Phone 217-333-4231
Email dobrucka@illinois.edu
---
4057 Beckman Institute
;